It won't be shocking to hear that within STEM, and particularly tech, male employees account for the majority of the workforce. Gender equality in the workplace has been a hot topic for years and businesses have implemented several initiatives to create a more diverse environment, but with less than 20% of the tech workforce being women in the UK, there's still a way to go. Despite this, I am lucky enough to work among some of the most brilliant, intelligent, inspiring and wonderfully weird women I have ever met.
In light of International Women's Day last month and Women's History Month, this month's blog is going to introduce just some of the women I have the pleasure of working alongside every day.
Firstly, Sophie Craggs is one of the lovely Innovation Specialists in our Digital Catapult NETV team. She says: "I started working in the tech sector in 2018 after being away from the North East for nearly 8 years. Upon my return to the region, I couldn't believe there was such a thriving sector here that I had never known about and I was ready to dive in.
My background is in service design and graphic design and, despite having to use technology for my work, I never considered I would end up helping people learn how to use advanced technologies in their business. A lot of my work revolves around helping organisations understand how they can apply immersive technology to their practice and staying on top of the latest innovations in this space.
My advice to anyone interested in working in tech, or trying to figure out what they want to pursue would be, study what you're naturally good at and have an interest in. The 'jobs of tomorrow' haven't been created yet and they will undoubtedly involve technology, so by studying what you enjoy and you have a natural flair for, you are in a great position to help shape your dream tech roles of the future."
Next, we have Lisa van Heereveld, part of our excellent comms team, who says "Hi, I'm Lisa! I work as Marketing and PR Manager at Sunderland Software City.
My passions are in telling stories. I love hearing about how individuals are bringing their digital/tech ideas to life, and to help them share these stories with the world!
My advice for girls wanting to get into tech or business? Experiment and see what you enjoy doing most! Whether that's through a hobby or through work experience. For example, if you're interested in a role in marketing you could try managing your own TikTok account, or if you're interested in becoming a developer you could work on a personal coding project."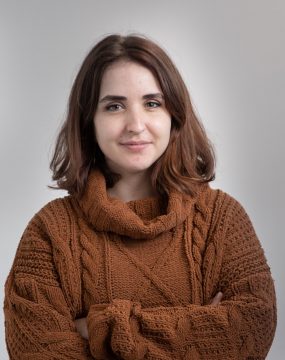 Alicia Gerez is our Social Media Executive and is responsible for developing and implementing our social media campaigns. Alicia says "Every day I feel so inspired and challenged at this job by the people and all the things I'm learning. And I want to keep growing! Even though I come from a communications background I'm fascinated by all tech and digital-related things that I'm learning here. I've just realised that tech is on everything nowadays. Whatever your passion is, I think tech makes it always more fun!"
Roisin Scott is one of our Engagement Specialists in the Enterprise team, and helps inspire and educate individuals about the possibilities of starting a tech business.
She says: "I am very passionate about the people of the North East and as a local lass I know we have just as much to offer. The people here are creative, passionate and driven and I know that we can help them bring their ideas to life.
My best bit of advice is that no idea is daft or stupid. If you have an idea yourself and think there is something there, go and do your research! You only have this one life and you could be your own boss, nurturing something you have created - it could be the makings of something truly unique and successful."
Our own skills team
In our own skills team we also have some inspiring women working to raise awareness of opportunities in digital/tech careers. Meet them here:
Firstly, my colleague, Jess Sawyers, our Schools Outreach Coordinator whose responsibility is to go out into schools and show students the opportunities and access routes in the digital and STEM sectors that are here in the North East. Previously a design and technology teacher for 9 years, Jess has lots of experience inspiring young people and says "If you are a girl wanting to get into the sector, then just go for it! It is becoming such a diverse sector compared with what it used to be, and I see a lot more girls in roles such as engineering and games design. Have fun, work hard and your dream job will be out there waiting for you."
Debbie Berry is our Digital Skills Specialist who works with members of the community to promote tech careers and to help underrepresented groups into employment. Debbie is passionate about creating equal opportunities and helping people find their place within the tech sector and helps people on a professional and personal level.
Jill McKinney is Head of Skills at Sunderland Software City and is the glue that holds our skills team together. Jill has many years of experience supporting the tech sector and delivering different programmes to nourish the talent in the region. On a day-to-day, Jill helps provide advice and guidance and ensures our programs make an impact.
And lastly, there's me, I'm Natalie Lamport and I work as part of the skills team at Sunderland Software City, delivering our Inspire North of Tyne programme, which aims to raise aspirations and awareness among young people with regard to the STEM industries in the North East. I am passionate about using equality and inclusion and using education as a social equalizer. My advice to young people who want to pursue careers in tech or STEM would be to nurture your interests, stay curious and to never be afraid to put yourself out there.
These are just a handful of the great women I get the chance to work with every day. I hope you have enjoyed reading about them and watch this space for what the women of Sunderland Software City might be up to next!
unknown

x

500
More posts by Natalie Lamport
Recent posts from Sunderland Software City