Being the second time I have been privileged to attend Game Developer Conference, I have been given great insight into the culture of the industry at large. As someone who sits outside the industry looking in (I support wider industry engagement), it has always been a great interest of mine to understand what it is really like to be part of the gaming industry, what makes it tick, and why the people within it are so passionate aside from making games. All too often, in most things news-related, we hear the horror stories of 'crunch time' and bad HR practices, volatile and insecure working situations, as well as a lack of representation where representation is needed. What I intend to focus on in this blog, is what is evident to me about why people, despite its difficulties, love working in this industry.
During my time at GDC, the first thing I noticed was that there is an apparent level of close, personal connections between people, even if they work in different studios or even different countries. Walking through the dense crowds, it was hard to not walk past people embracing and being excited to see one another, in some cases where GDC is the rare platform for these people to meet. While it seems cliche, the feeling that people are more a family than just work colleagues is not inaccurate when walking the vast expos and lines for talks: there always seems to be a buzz of old friends and new meeting up when they can.
Meeting up with people you know is to be expected in an industry known for its strong communication between developers. However what struck me as, not surprising but pleasant, was the openness and welcoming nature of the veterans of the conference to those who were there for the first time, or just started out in the industry. Even for people like myself, who are not developers and sit on the fringes of the industry, there was no barriers or gatekeeping to be seen. In most instances when speaking to people in the expo halls, they were really keen to know more about what my role was, and loved my passion for the industry and that I support it in the ways that I can. My entire time there, I felt welcomed and able to ask anything I wanted in regards to my interests about the gaming industry, advice, and support where I wanted to know more, without the feeling of being an outsider.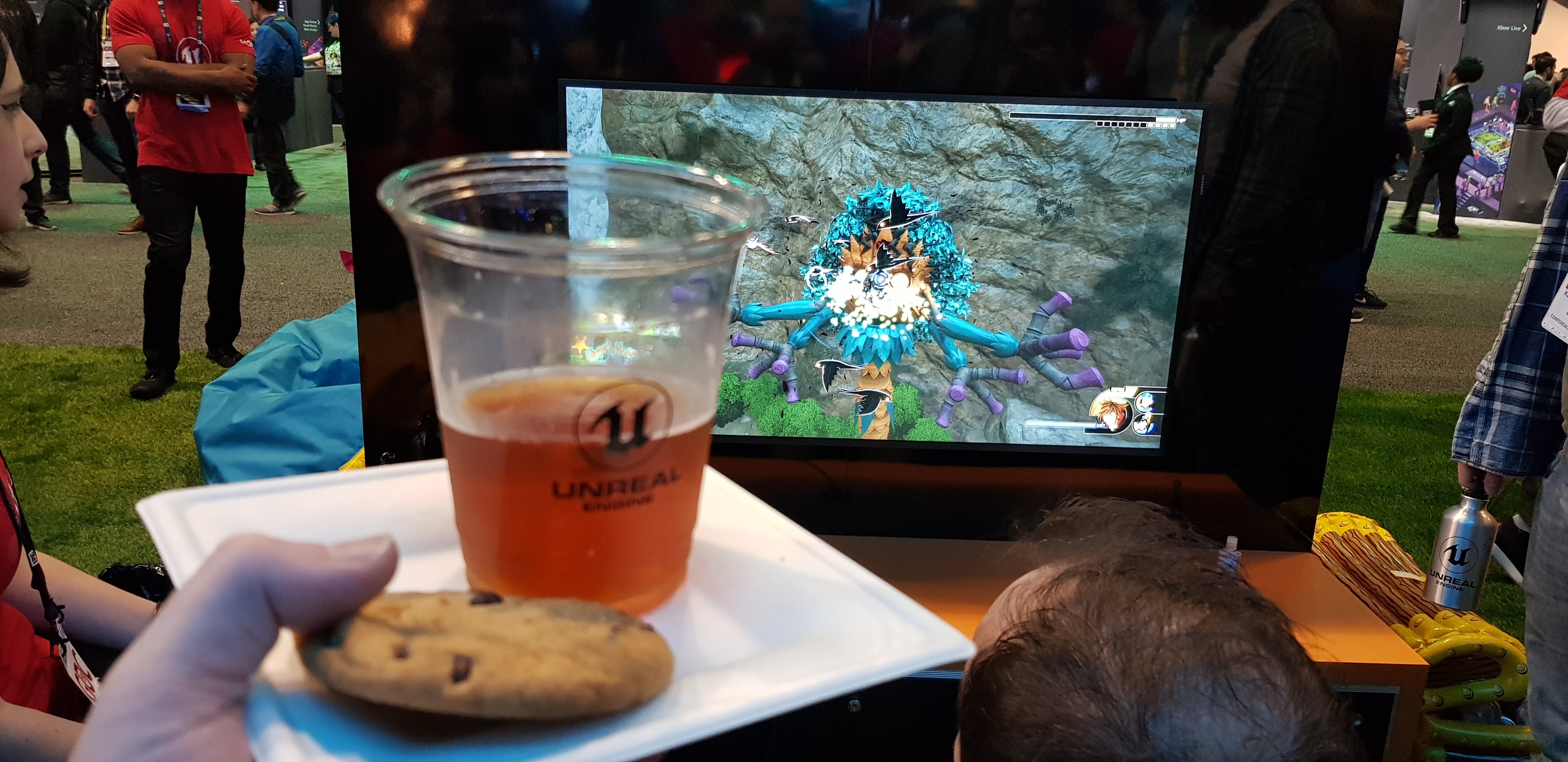 The conference is extremely intense for many, with most people booking out full days of meetings or talks to attend. But throughout the expo halls there are areas to break out and relax and enjoy your time there, very much fitting in with the work hard, play hard nature that the gaming industry is well known for. With places to sit and play some games, free food and drinks available throughout the expo halls, it really gave a sense of appreciation for those that work so hard to create the entertainment many take for granted. The big hitting games engines Unity and Unreal Engine (Epic Games) as usual hosting the largest areas for people to relax, catering to people's every needs as best as possible, again with a feeling of giving back to those that use their platforms and work with them.
From the people I spoke to, from sitting and playing a game with them, through to idle chatting whilst waiting in line for a talk, there was always the feeling that everyone wanted to just learn more about you, to develop a relationship and even make friends with you, and rarely did it feel like it was a cover for an ulterior motive, such as creating a contact for business benefit. There was a genuine feeling of positive intentions when walking the conference, being surrounded by people who love their craft being given the chance to freely express it to others like themselves. There has always been a misconception that those working in the industry are socially awkward, or introverted, however GDC proves this thought process completely wrong. The games industry is overflowing with creative people, who truly love to show off their creations, talking about it with people who share those interests, as well as people who are just looking at those interests as something to follow.
Although this was only my second time attending GDC, in both instances I have come away feeling as though the gaming industry is, at its core, a diverse and willingly inclusive community. Despite the shortcomings and need to progress and do better as an industry that is out there in the public eye, the right intentions are there from the majority. I truly believe that the people present and future within the industry have the potential to make it the most exciting, inclusive and caring community to work within.
unknown

x

500
More posts by Robert Currie
Recent posts from Sunderland Software City